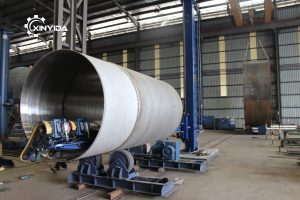 Using the CNC control system, you can save human resources and time resources. Once you have set up the program, it will work automatically.
Product Description
 
The equipment is mainly used for grinding and polishing stainless steel cylinders, cones and heads, and the inner and outer walls of the joint parts. It consists of a cross main machine, a grinding head assembly, a cooling circulation system, an electric control system, and a pneumatic system workpiece turntable.
The workpiece is mounted on the turntable for rotation. The column and the beam are horizontally moved by the servo control beam, and moved up and down. The numerical control program controls the grinding head to follow the contour of the workpiece. At the same time, the grinding head spindle servo rotation technology is adopted to make the grinding head more conform to the workpiece curve. Greatly improve grinding efficiency and polishing effect.
The polishing motor, turntable and other related components of the system are designed according to the wet polishing process. The wet abrasive belt polishing causes the grinding dust to flow out of the surface of the workpiece under the flushing of water, and the water can be recycled through simple precipitation and filtration to achieve zero pollution. The grinding head spindle servo rotation technology improves the grinding efficiency and improves the surface polishing effect.
Product Features:
 
Servo Control System
All motors are water proof design
High Efficiency
Satiable Running with convenient operation
Wet polishing design could be reduce dust polution
Technical Service: 
1) Design rational process for customers according to their product positioning.
2) Help customers carry out technological transformation on the entire process to improve their production efficiency and capacity.
3) Customize polishing machine configurations and other manufacturing equipment for customers; provide spare parts to equipment users.
4) Help customers test, inspect and analyze new processes, and offer reasonable suggestions and improvement proposals.
5) Improve customer operation on polishing equipment; train their ability to use the equipment and improve their application efficiency.
6) Provide software train for customers and software design of special patterns.
7) Provide processing service for special products.
8) Provide professional designers of technological application to equipment users.
9) Provide technical advice, equipment maintenance and repair services.
After-sales Service:
• Free on-site installation and commissioning. (Customer provides air ticket + accommodation)
• 24-hour service hotline; providing free instruction and answering your questions.
• Life-time maintenance; one-year warranty. After warranty, we provide reasonable prices of spare parts and service.
• Once a year on-site free maintenance. (Customer offers airfare + accommodation, or completed by our local agent)
• Comprehensive and systematic technical training, to ensure your correct operation of the equipment.